BANG is a utility token powering The Bang Network a social place built for the mintme community. Currently BANG Network consists of a social network with a community chat lounge. Members can acquire BANG TOKENS for simply using the site daily.
Furthermore BANG links with other token creator projects expanding and bringing further utility to the network.
Mypeppermint
MyPepperMint.me is the defi ecosystem of the MINTME network. Swap coins, bridge tokens, and stake PMINT for rewards! https://bang.mintme.host/peppermint/
Mypeppermint group can be found here >>> https://bang.mintme.host/groups/peppermint-community/
Portfolio Tracker
Portfolio Tracker With Real-time valuation and analytics. Keep track of your crypto profits, losses and portfolio valuation. Create a unique cryptocurrency portfolio, track crypto market performance in real time. https://bang.mintme.host/portfolio-tracker/#/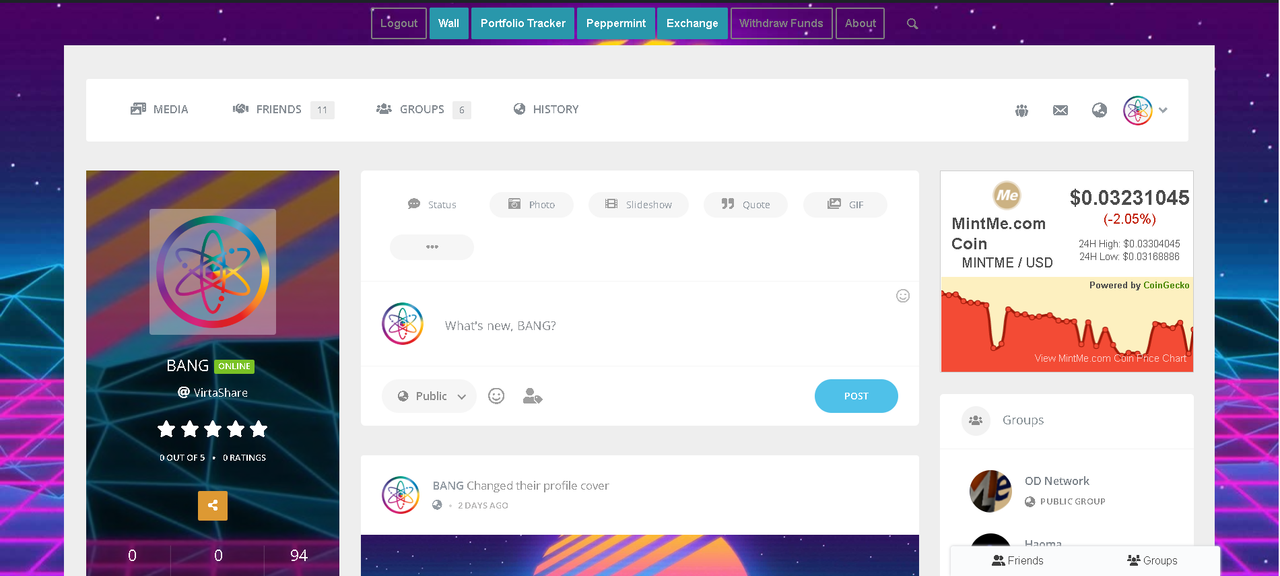 For more info please visit the links below
HOME =https://bang.mintme.host/
ABOUT =https://bang.mintme.host/about/
SUPPORT =https://bang.mintme.host/support/
Email: btcadnetwork@gmail.com
[/p]
Release period:
50 year(s)
Hourly installment:
11.4079
Already released:
5 183 244.3099
Not yet released:
4 816 755.6900
Wallet on exchange:
4 788 533.6302
Active orders:
131 394.4000
Sold on the market:
200 940.0583
20:09:28 29 Sep, 2022
1000 CLICK TOKENS have been included as a second reward pool on BANG NETWORK. Members will now earn BANG tokens as well claim CLICK tokens daily for site activity. The CLICK reward pool will continue to pay out until the pool runs dry. :-)
About CLICK TOKEN? More info HERE>>> https://www.mintme.com/token/CLICK
Earn CLICK
For clicking on links. :-)
Dont have a account? Join BANG here
https://bang.mintme.host/
15:09:10 20 Sep, 2022
Docs add a collaborative work space, part wiki, part document editing, part shared dropbox.
Features include:
Docs that can be linked to groups or users, with a variety of privacy levels
Support for fully-private document uploads
Fully sortable and filterable doc lists
TinyMCE front-end doc editing
One-editor-at-a-time prevention against overwrites, plus idle detection/autosave
Full access to revision history
Dashboard access and management of Docs for the site admin
Are you a mintme token creator? Not yet joined? Register Here and earn free BANG tokens daily. >>
16:09:29 19 Sep, 2022
Menu's have been updated.
Top right hand side of the screen users can now access a mega menu consisting of all social features.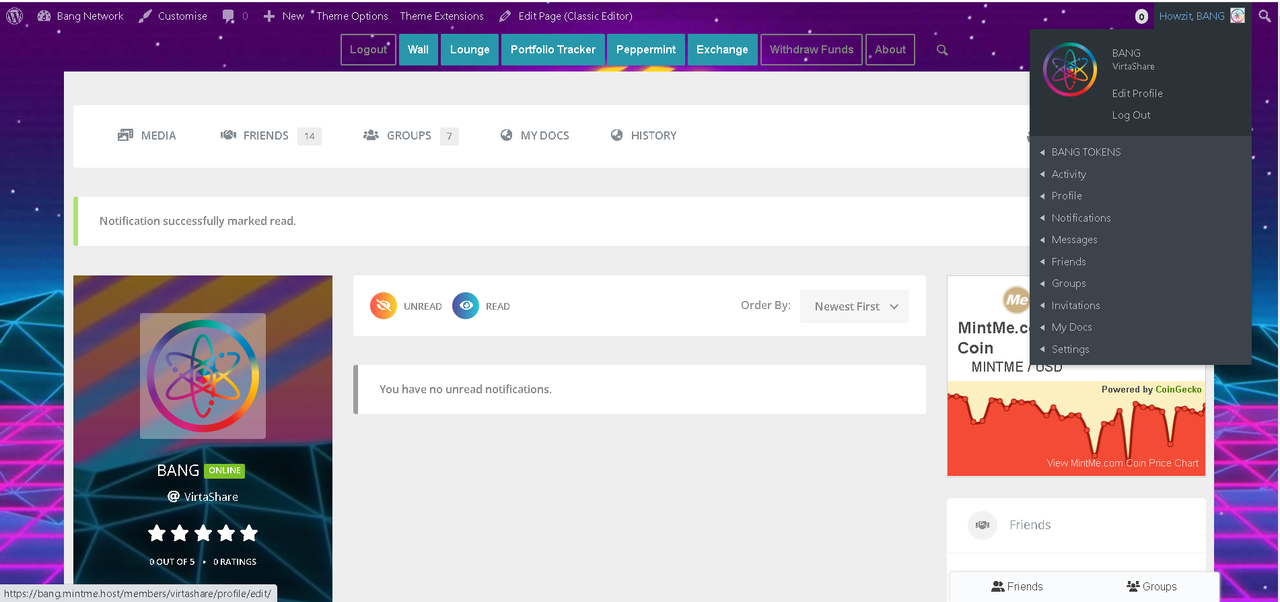 Are you a mintme investor or token creator? Register a account and earn BANg TOKENS daily >>> https://bang.mintme.host/
| Trader | Amount |
| --- | --- |
| | 32 765 |
| | 21 536 |
| | 6 315 |
| | 4 990 |
| | 4 512 |
| | 1 376 |
| | 1 376 |
| | 1 356 |
| | 1 269 |
| | 1 219 |